President and CEO: Grace Troccolo Rink, LEED AP BD+C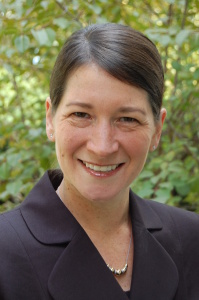 Grace has been a thought leader in the field of sustainability for over a decade. This deep experience allows her to accelerate the implementation of new projects and guide clients in determining the most effective policies and programs to capitalize on their environmental assets and minimize liabilities.
In 2001 Grace began managing the Chicago Center for Green Technology, the nation's third LEED Platinum facility and the nation's first existing building to earn that distinction. In those early days, promoting sustainability and green design was a challenge, not the common theme we hear today. With a clear need for subject-specific education – from wind power and energy system design to vermicomposting and green cleaning – Grace developed the highly acclaimed Green Tech U which offered hundreds of free seminars and events reaching more than 25,000 visitors each year.
Prior to joining Quercus, Grace was the sustainability practice leader for the Chicago office of AECOM, a Fortune 500 infrastructure firm. Grace previously forged new ground in sustainability as the Assistant Commissioner for the Chicago Department of Environment, where she managed a green jobs training program in addition to CCGT. Her passion for education originated in her years of service at the Chicago Public Schools where she initiated the service-learning program, a new requirement for high school graduation. During her tenure, Chicago students gave more than 3,000,000 hours of service to their city, the impact of which continues to propel Grace in her professional mission.
Grace serves on the Sweet Beginnings committee of the North Lawndale Employment Network. Sweet Beginnings is a social enterprise sustainable business; from bee keeping to the production and marketing of honey and honey-infused personal care products, Sweet Beginnings has provided job opportunities for over 200 people since its creation in 2007.
Grace has a BA in History and Political Science from Miami University (OH) and has been a LEED Accredited Professional since 2004.
Grace is a great resource and teacher on all things sustainable. As a founder of a small social enterprise, Grace has helped our business to think creatively and strategically about improving our work and how to best optimize our entry-level green jobs programs and improve our sustainable messaging in our low income, urban community.
Brenda Palms-Barber, Executive Director, North Lawndale Employment Network
Working with Grace in partnership with the Chicago Department of Environment was truly a treat. Her key role in helping Chicago to become the greenest City in the nation was illustrated by her level headedness, attention to detail and passion for her work. I look forward to working with Grace again.
Geoff Deigan, President and CEO, WRD Environmental